10 / 14 / 12
Well Soul-edge, as far as i can tell SoulCalibur is a blade made through your shards that's been purified of all evil within it, thus creating a blade of light.
zachsrpblog
and Also as far as i know this SoulCalibur only exists in an alternate universe. ~ zachsrpblog
Why is it you people tell me things I do NOT want to hear?
Discord, when was the last time somebody told you that they loved you? ~ Anonymous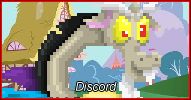 That would be my mother, when she tells me I am her little Chaotic Demon.
I can understand why you like messing with others Discord. Seeing their reactions is very funny. ~ Anonymous
Finally! Someone who appreciates my brand of humor.
Discord, do you only want to party, or do you only want to play it cool? ~ Anonymous
It isn't a party until Discord enters the dance floor!
Discord, give me one good reason why I should trust you. ~ Anonymous
You know that if I were to do anything, it would be for Chaos.
Discord, if you wanted to to, could you catch a spell and eat it? ~ Anonymous
Yes I can. I can also Teach a spell tricks and make it eat itself.